Brooke Jackson
Experience Designer
Student Onboarding Applications
Reimagining how new students interact with
and transition to the university
Problem: A disjointed student experience
As a consequence of bureaucratic decisions and excessive IT spend, universities can have multiple, outdated systems and applications that fail to speak to one another.

These systems create a clunky and confusing experience for students, who have to log in to multiple portals with little direction.
Solution: A single place that guides students in their transition to the university
Our team was created to reimagine the way students experience our university's online applications.
I was responsible for leading research, brand and style creation, and experience design of two web applications intended for a pilot audience of incoming freshman and transfer students.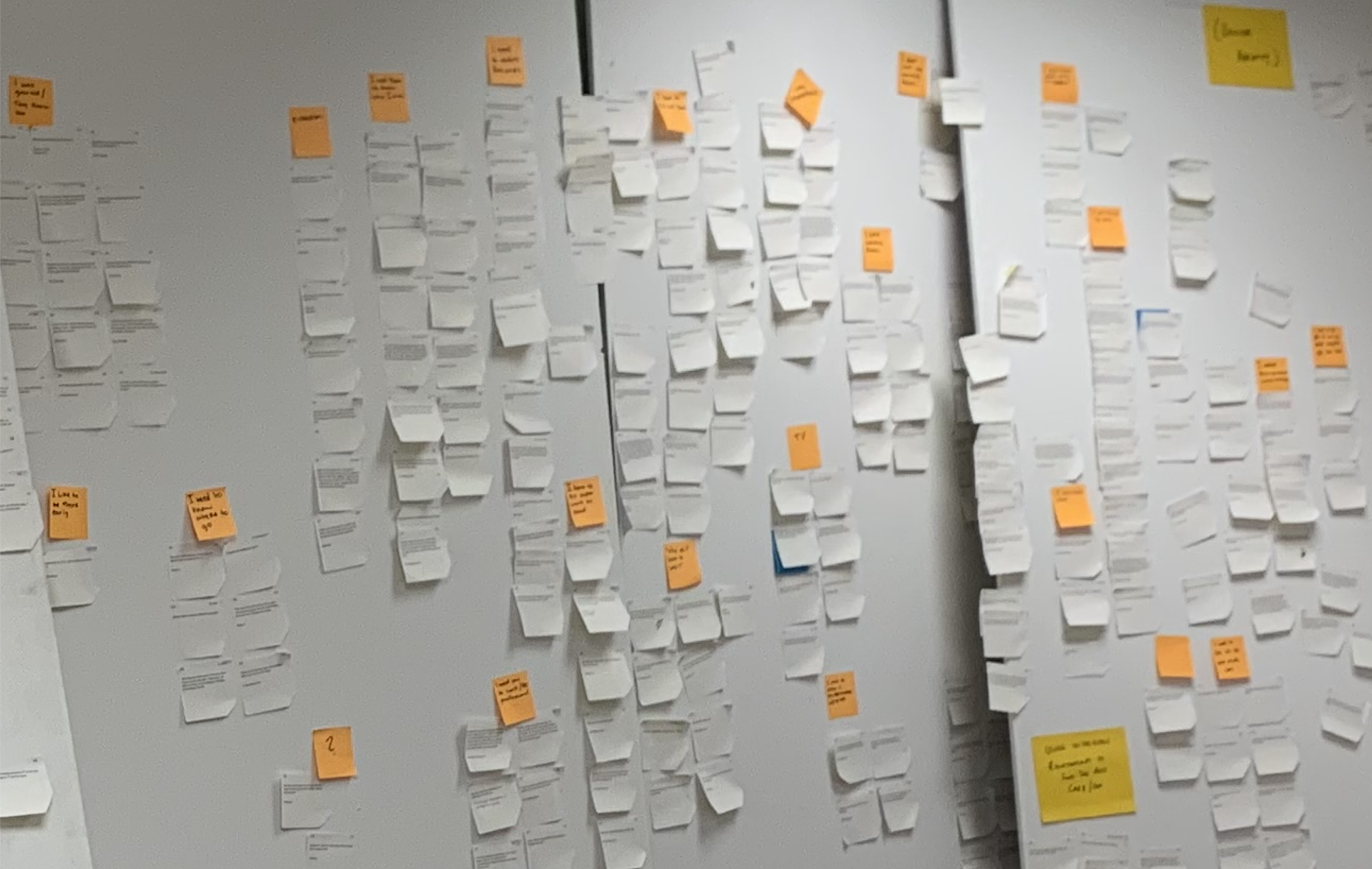 Research and Initial Discovery
With limited time, budget, and resources, we conducted focused contextual inquiries with student services employees and current students.
We identified:
Resources students needed in their transition to the university

The systems and core processes that occur during a student's transition

Opportunities to solve front-end and back-end issues during the student experience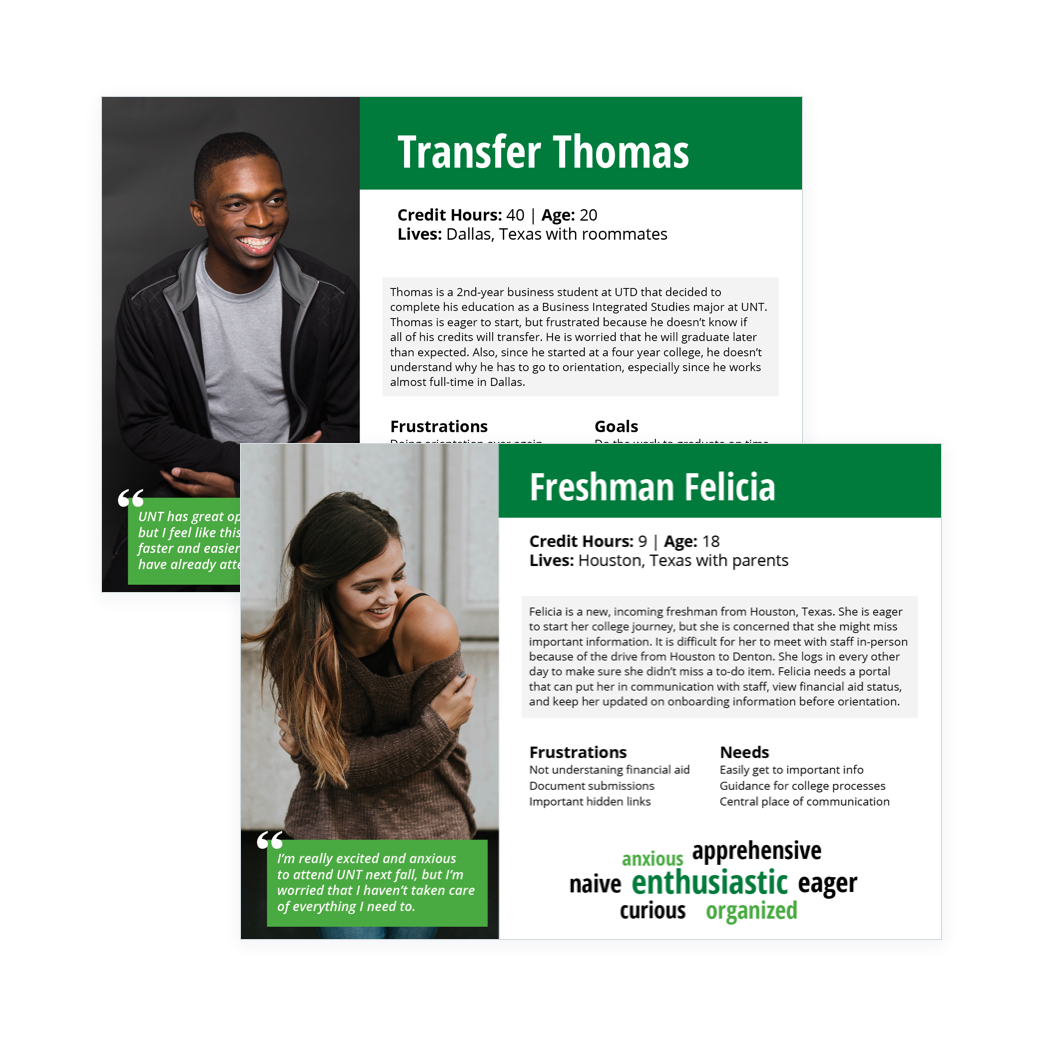 Provisional Personas
Our interviews with students made up the bulk of our research. To focus our interviews, we targeted two personas that we needed to design for: freshman and transfer students.
Both had similar goals, but differing priorities
Freshmen needed a one-stop shop for taking care of logistical things like housing
Transfers were more experienced with the processes, but still needed help adjusting
Opportunities
For our minimally viable product, we decided to focus on two opportunities to improve university applicants' experiences:
Provide a way for students to see the status of their application and submitted materials
Improve and refine the ID activation process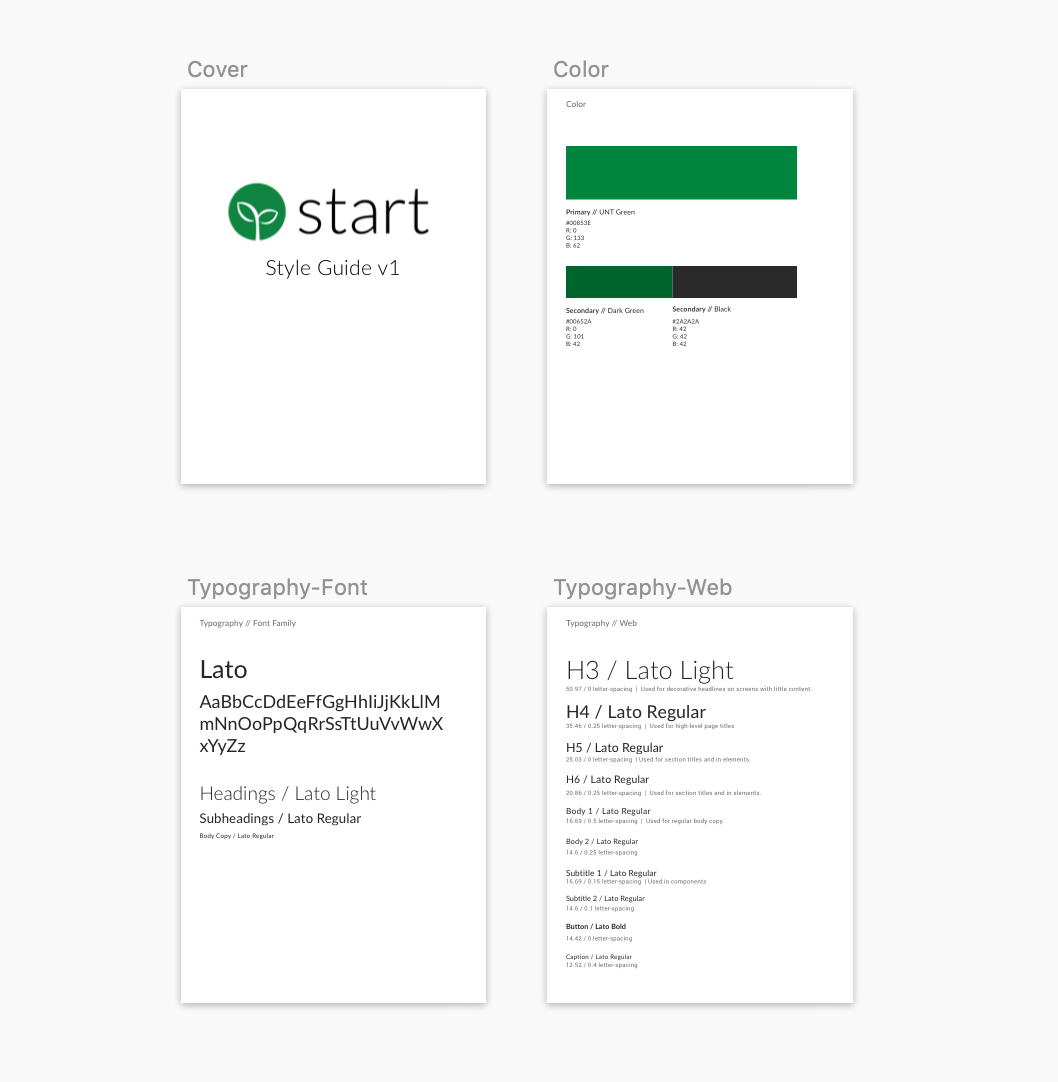 Design Decisions
Brand
We wanted our product to have its own brand that wouldn't overtake the brands of the multiple campuses we served. I designed a logo and developed a simple style guide to achieve this.
Design System: Material Design
We used Google's Material Design for its already-built design system in Sketch and ease-of-use for our front-end developers that were using Material-UI React components.
Validation Testing
We conducted validation testing with over 15 freshmen and transfer students and gathered insights on their experience as a new student.
FINAL EXPERIENCE HIGHLIGHTS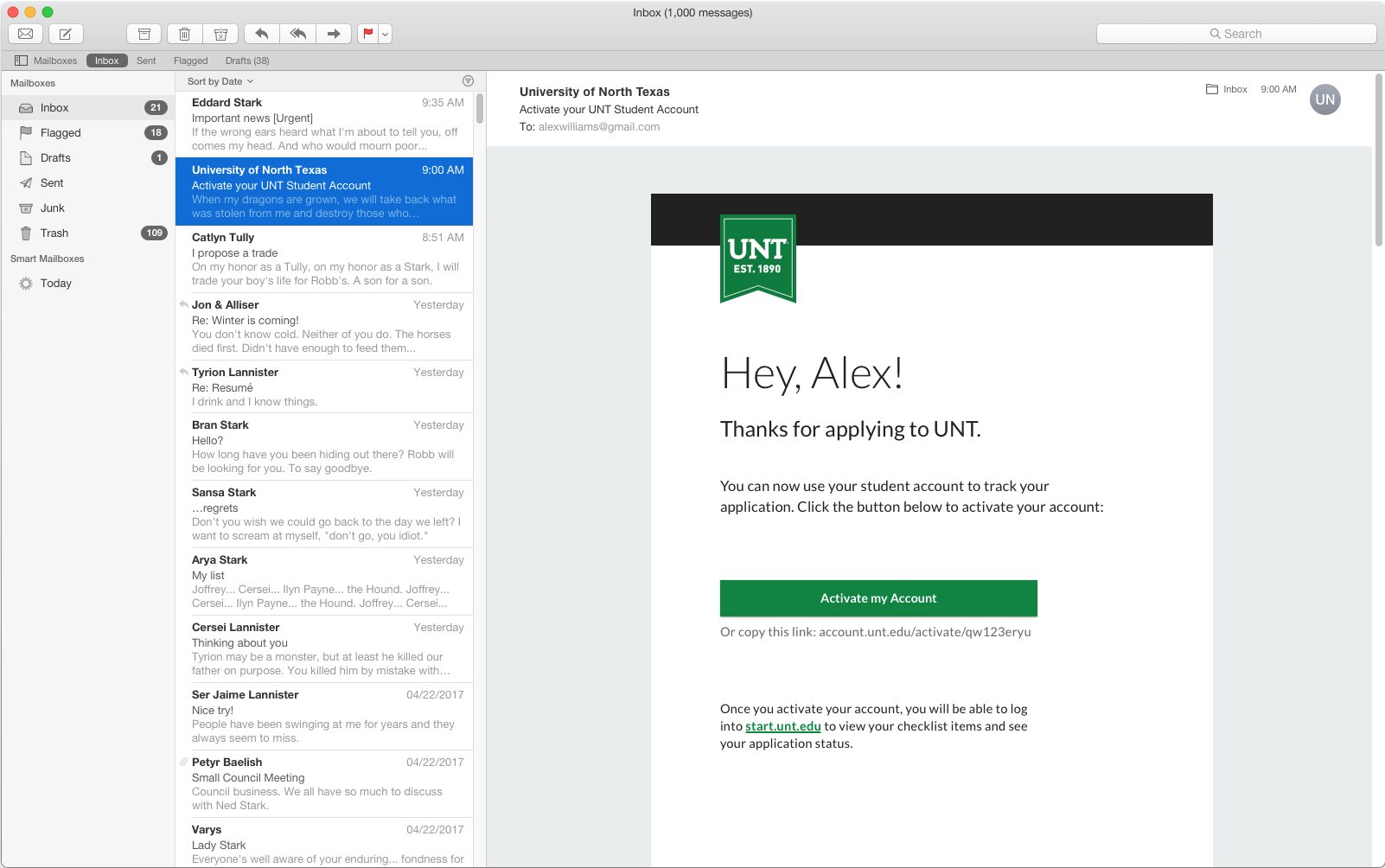 Guided Experience
Students are always directed on where to go and what to do next. Our two applications work together to make sure students understand where they are in their onboarding process.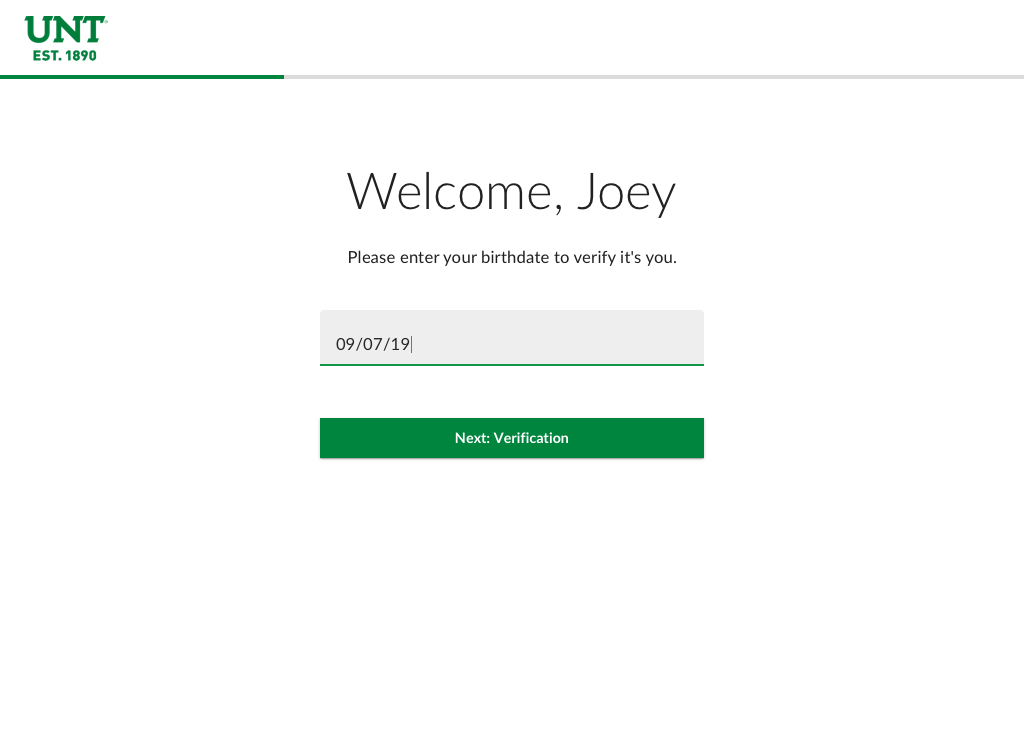 Streamlined ID Activation

Individualized links sent in a welcome email serve as a form of authentication, eliminating unnecessary steps in the activation process such as temporary PINs and social security numbers.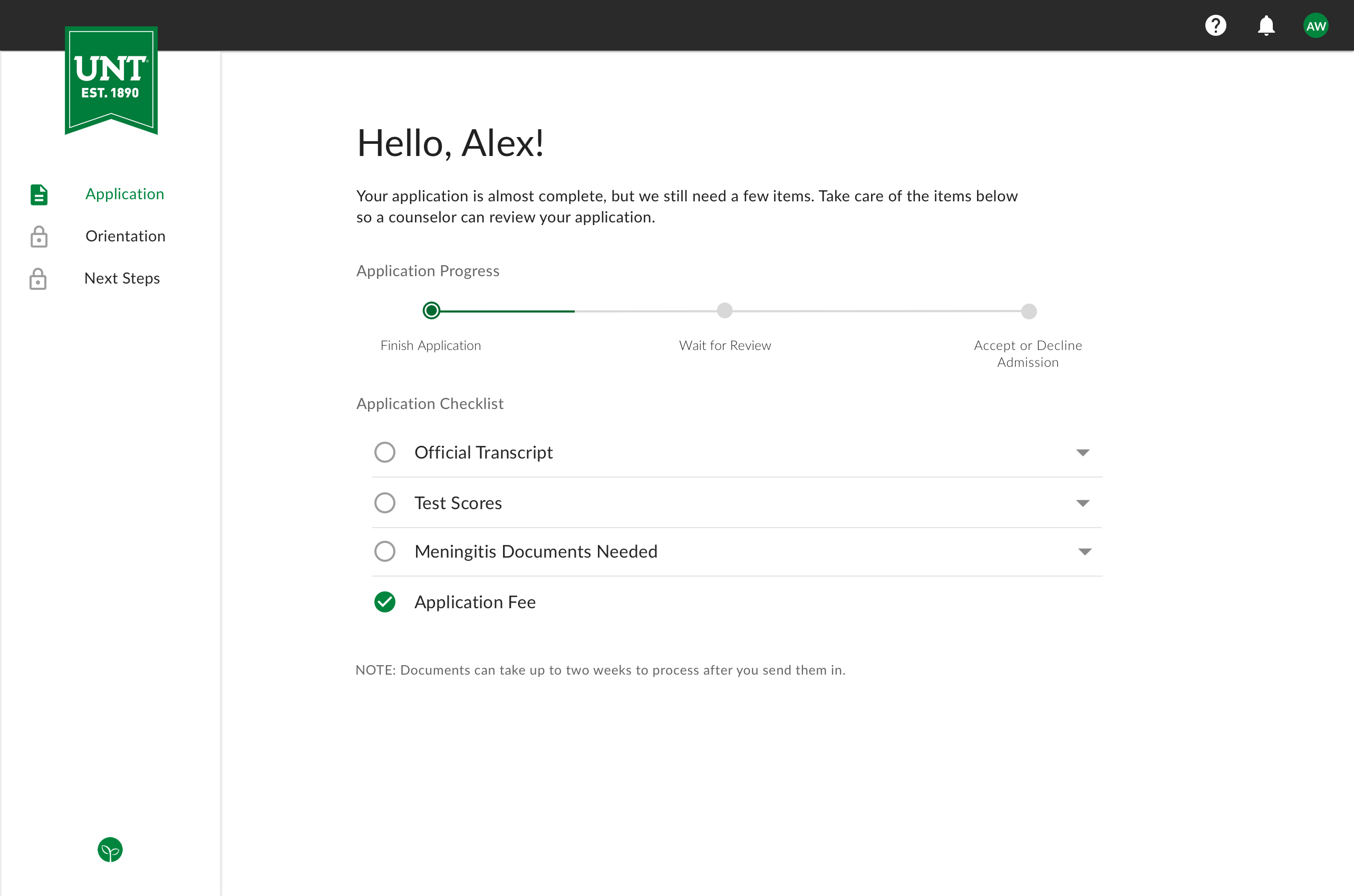 Application Tracker
Students can view their checklist to submit the correct materials. Their status changes once their application moves into review and again once the university has made a decision.
Results
Our minimally viable product was presented to university executives to be launched to a pilot group of students in Fall 2019.
While the university did not proceed with immediately funding the project, the team we established continues to advocate and improve digital experiences.